Trying to choose the best cabin can be a daunting task. Often presented with 15 to 20 different cabin categories per ship, you can quickly become lost in a sea of cabin numbers! However, there are essentially only five major cruise cabin types to choose from. Below I take a look at these choices in detail and provide some food for thought that you may want to consider when choosing your cabin.
Cruise cabins: The fantastic five
Using P&O Cruises as an example, the five cruise cabin types that you will find on most cruise ships are:
Inside Cruise Cabins
As the name suggests, these are situated off of inside corridors, with no windows. Well-appointed and comfortable, they provide a perfect place to put your feet up and relax. Depending on the ship and grade, some may have added extras such as a sofa or be larger in size.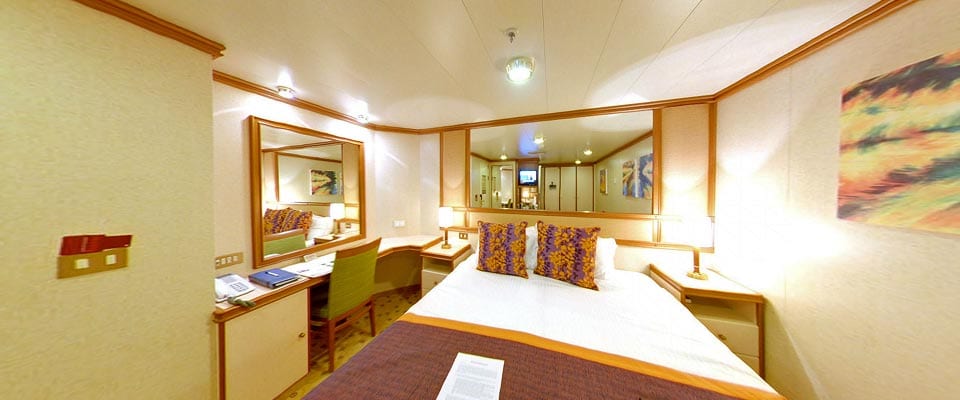 Outside Cruise Cabins
Often the same as inside cabins, but have the benefit of a window or porthole with a view to the outside, which may be clear or obstructed, dependent on grade and location. Some ships have inside rooms with windows that overlook internal public spaces, such as Royal Caribbean, who have rooms with a view of the Royal Promenade.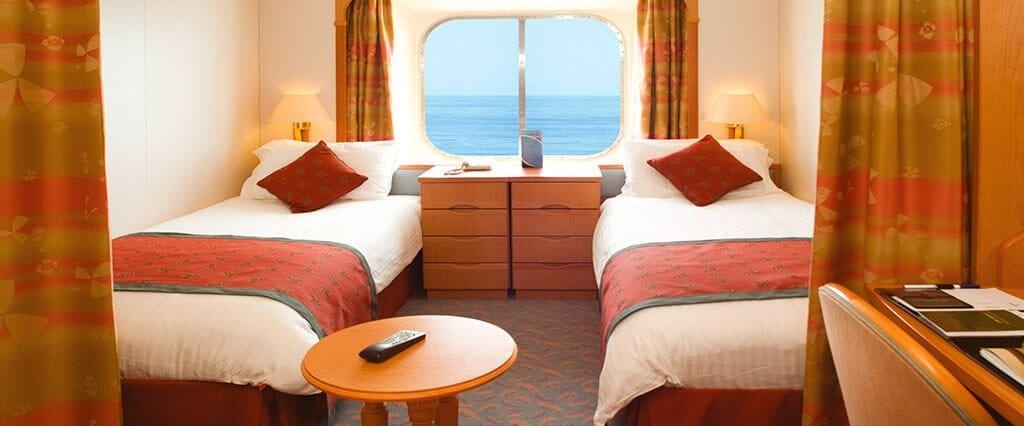 Balcony Cruise Cabins
Replacing the window is your very own balcony that provides you with a little bit of outside space without having to go up on deck. Depending on grades and ship these may be clear or obstructed view (more on this below) and may vary in the added amenities available. For example, some may have a small two-seater sofa, whereas others may just have an armchair as demonstrated in the photo below.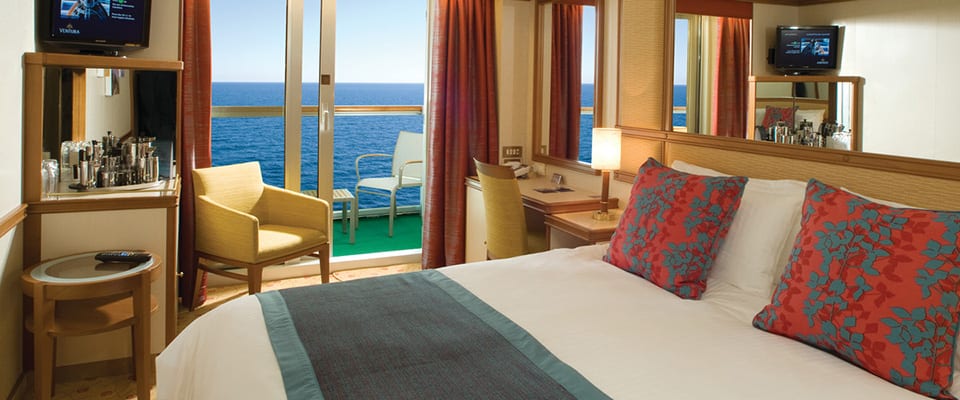 Mini-Suites/Superior Deluxe Balcony Cruise Cabins
A larger cabin which usually has separate living and sleeping areas and a wide variety of extra amenities included. With P&O, guests are treated to extras such as bathrobes, flowers and champagne on arrival, as well as canapés and chocolates.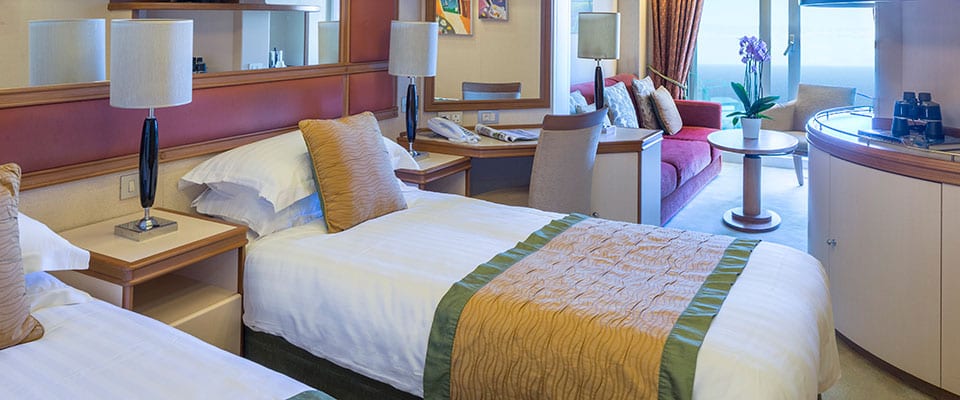 Cruise Suites
The ultimate class of cabin onboard, these vary from ship to ship with some ultra-luxury suites available. A large cabin with separate living and sleeping areas, a large balcony, countless added extras and a Butler to boot, it really is the ultimate way to travel.
It doesn't matter how many grades or factors there are to consider, if you know which cabin type you'd like then you're already half way there.
Food for thought
Number of passengers
Cabins are usually double occupancy, meaning prices will be based on two adults sharing. However, some may be reserved for single occupants, but these are few and far between and tend to be snapped up almost instantly. On the other hand, there are cabins designed to take three or four passengers (and sometimes more) with pullout sofa beds and/or pullmans beds (think bunk bed style). In these cabins, the third and fourth passengers will often pay a reduced rate.
Most cabin types have grades to suit up to four passengers. But it's worth considering what type of cabin you really need. If four of you are travelling together, it may be cheaper to have two inside rooms for two passengers rather than one balcony cabin for four. So if you're prepared to forfeit a balcony, you could have a lot more space per passenger, as well as a cheaper cruise bill. It is always worth spending that extra time pricing up your different options when there is a larger group of you.
The first two passengers will (usually) pay full fare
Cabins are nearly always based on double occupancy. This means the first two passengers, whatever their age, will usually pay full fare. Even if they're children. Therefore, for families with children, it is (usually) cheaper to share a cabin. However, this is not always the case and there are occasions when it may be cheaper to have two cabins. Again, it is important to check your options to make sure you are getting the best value for money.
Location, Location…Obstruction
Location also plays a key role in price points for differing types of cabin. Cabins that are located Midship tend to be more expensive than those located at the Aft or Forward sections of the ship. This is because they are centrally located and, more importantly, are impacted the least when the seas are rough. Therefore, if ship movement worries you, a midship cabin will be more than worth the extra ££ for peace of mind alone.
However, if you're like me and just happy to be on board, no matter the location, then a guarantee cabin might be the best option. This is where you will be guaranteed a cabin in your selected grade or higher. This will save you both time and money. However, if location matters to you and choosing your exact cabin is important, then this is definitely not the option for you.
To save a little money you might consider an obstructed or misshapen cabin. These are often deemed as less desirable and therefore have a lower price point. However, in reality, these can vary in the extreme and it isn't always possible to see exactly what you are getting before you book. Sometimes, cruise lines upload specific cabin numbers to their FAQ pages, showing obstructions in detail before you book. I have added an example from P&O Cruises in the links below which provides a look at a number of varying obstructions. It is very much a personal preference, but one you might want to consider when choosing a cabin.
Use a travel agent
All of the variations I have mentioned can often be found in each cabin type and are noted on the ships deck plans. As I say, it is important to check all your options to make sure you are getting the best value for money possible. However, it's at this point it can become a little daunting – especially if you're new to cruising. This is where the help of a cruise agent can make all the difference.
A good cruise travel agent will have all the answers you need and should be able to help you in selecting the best cabin type to suit you. Don't feel bad about asking questions or requesting extra prices for different grades. A good agent will work with you to ensure you get the best options available. Therefore, don't book unless you are 100% happy with your choice! Personally, I highly recommend Go Cruise with Jane – you won't find a better cruise agent out there! Find her details below.
Keep Calm
Finally, try not to worry – you're booking a cruise after all! It need not be stressful. Enjoy the process as booking is all part of the excitement. Take your time and enjoy the moment…it's not every day you book a cruise!
If you have any questions or would like any more information or help, please do let me know. You can leave a comment below, drop me an email or head over to Instagram, Facebook or Twitter and say Hi! I will always do my best to help.
---
Further Reading:
P&O Cruises: Showcasing the Best of British – The Cruising Baker
Go Cruise with Jane – Award-winning Cruise Travel Specialist – Jane Chadwick
What do the obstructed views look like on Azura? – P&O Cruises